THE HISTORY
TV Eye is a new kind of night club on a geographical and cultural frontier, proudly occupying both a space on the edge of the Bushwick/Ridgewood border and in the vanguard of contemporary nightlife. Owned, operated, and conceived by a diverse aggregation from Bowery Ballroom, Home Sweet Home, New York Night Train, Sacred Bones Records, and WFMU, the club was meticulously constructed from hard-learned lessons of the seven operating partners' over 200 combined years in nearly all aspects of the music and nightlife industry. While this unique assemblage is best known for helming a number of legendary institutions, they've also spent over 10,000 combined nights on the other side – playing in bands, DJing, and bartending. TV Eye is their attempt to raise the bar all around for artists, staff, and patrons, offer an exquisite nightlife experience, and develop a nightclub like no other.
TV Eye describes itself as simply a "funhaus" as it is too many things at once – a bar, music venue, dance club, restaurant, art gallery, cinema, community center, and much more. All of these superficially disparate elements work in concert to establish an integrated whole where you can take in an early art show or maybe a screening, grab dinner, catch a band, comedy show, or multimedia event, dance the night away, and buy your friends last call shots without leaving the club's four bar rooms, gallery, and courtyard. This isn't merely a bar where you pop in for a couple of drinks without discovering something new. Conversely it isn't the kind of venue where you see a show and leave. Inspired by the cultural function of the iconic nightclubs of the past that seeded the most important music scenes of all time, TV Eye enters the future by bringing unusual people together in an unusual environment for a variety of experiences and interactions under one roof – building new communities in the process.
Infinitely adaptable for a variety of artistic mediums and social events, the space is designed to foster a seamless flow of music, dancing, visuals, and human interaction with the highest-quality production values. The programming is deliberately subcultural, typically community-based, and as distinctive as possible. The democratic bar menu includes everything from $4 beer and cheap specials to market-rate finer wines, craft beers, and cocktails served by a friendly experienced bar staff – some of whom are your favorite artists, DJs, and members of the underground's most exciting bands. The food is accessibly-priced, locally sourced, and homemade. All of the art and design, an infinite work in progress, was dreamed of and realized by a combination of the partners and their talented friends. The aesthetics deliberately abandon typical rock club drabness in favor of the beauty, exuberance, and imagination of the most artful rock LP covers, cinema, and fashion.
Brian Swier's innovative design is a cluster of four intimate spaces connected by an eye-shaped wooden bar snaking throughout. TV Eye's infinitely adaptable layout functions as everything from four distinct rooms with different vibes and bartenders to a single open winding bar for a massive party with multiple environments. Another uniting factor of the structure is the wood floor that remains not only for aesthetic purposes but is also ideal for acoustics and dancing. The ancient floorboards are all that remain from the original 1930s textile factory interior that previously occupied the space. The fluid design isn't only ideal for multi-room public and private parties but also a location for filming – and has already been rented for everything from birthday parties, weddings, and company events to television, music video, and photoshoots. Go here if you're interested in renting out TV Eye.
THE BALLROOM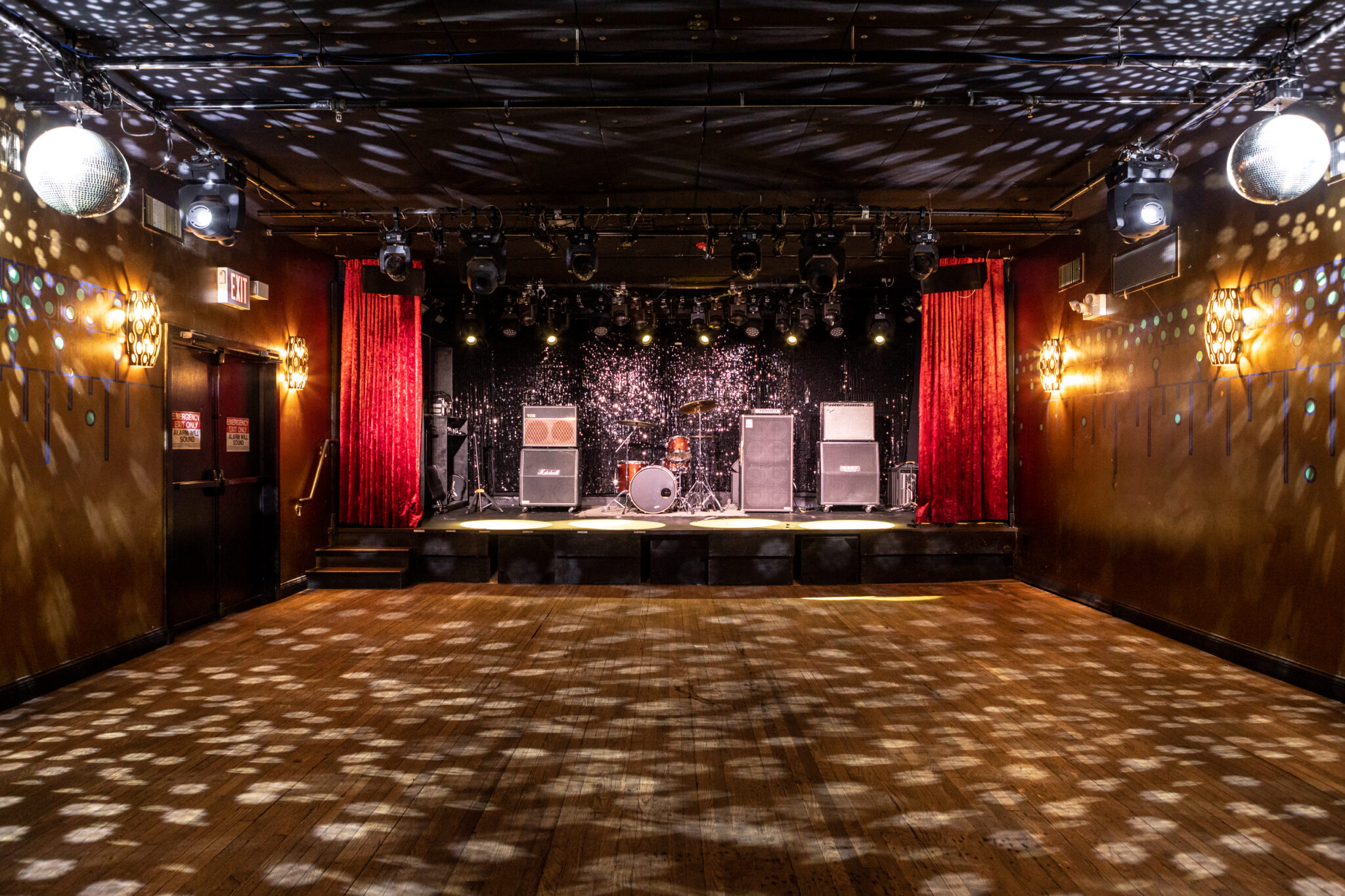 THE JUKEBOX BAR
THE PEACOCK ROOM
ROOM 237
ZONE 6 GALLERY
Immediately connected to the side of the main eye-shaped structure, Zone 6 also boasts an art gallery and kitchen on its edge. The gallery is curated by Braaten and MoMA PS1/Broad Museum curator, writer, and ex-Pitchfork editor Brandon Stosuy. Barker and Sons, the club's innovative but unpretentious kitchen, features local hero/chef Ross Noyes' made-to-order, infinitely customizable locally-sourced original recipes. 
THE GARDEN OF EARTHLY DELIGHTS
TV Eye's massive courtyard is adorned with long benches, picnic tables, plants, retractable awnings, powerful heaters, and occasionally an outdoor bar. During warmer months this is TV Eye's most popular environment for their world-famous nachos, homemade frozen cocktails, and marathon open-air lounging sessions. On the opposite side of its front gate, musicians have been thrilled to find some of the only band parking spaces at any NYC venue.